Collection:

Crystal Friends for life.

8 products
We all need more good friends and these ones are 100% committed to our positive growth and well-being. Let's hook you up with some new friends!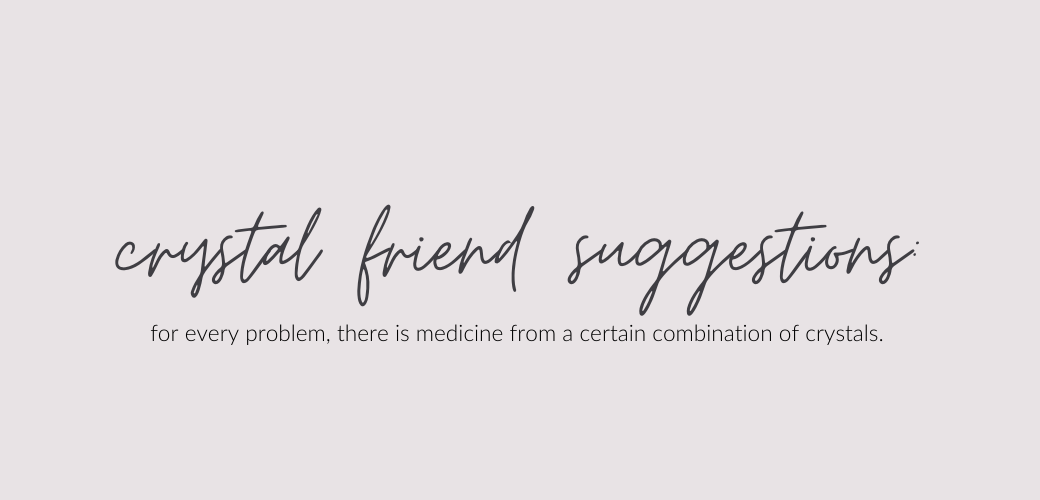 need help manifesting?
some crystals come together to help us manifest like a boss. These ones will help you believe in what otherwise you actually doubt you can do. When working together they open your chakras so that you can tune into unlimited potentials and true belief in self.
CRYSTAL FRIENDS #13 Manifest it!
$27.00
Sold out
need help channeling?
some crystals come together to open chakras and get you FULLY seeing truth. These friends bring the words or direct communication in your mind as if you are talking to your higher self direct! They often surprise you with how they nail what you really need to hear in order to bring about better situations in your future.
CRYSTAL FRIENDS #11 See why it had to be.
$20.00
get the medicine.
need help feeling better?
some crystals come together to up your vibe and get you seeing to the other side. These friends work together to soften where you are brittle, and get you seeing that you ARE in a process and otherwise there is NOTHING wrong with you. Our world is messed up and it's hard on your system to digest that. Allow the crystals to help you!
CRYSTAL FRIENDS #12 Self Love 1.0
$22.00
get the medicine.
CRYSTAL FRIENDS #10 Happy Happy Joy Joy
$14.00
Sold out
need help with the energy around your home?
some crystals want to get back into the earth and work their magic UNDERNEATH you. These crystals are programmed to work as a team the moment you plant the final crystal. They also never need to be cleaned or maintained. Plant your crystals and grow a better life!
GRID your HOME | Love + Kindness
$17.00
get the medicine.
GRID your HOME | Lucky Vibes.
$14.00
get the medicine.
more crystal friends coming soon!
we will be launching new potions and combinations each month! On October 20th we launch #14 Complete the dream! This one gets you FINISHING tasks and not letting go of what you wish to attain. They are great for mutable signs!
CRYSTAL FRIENDS #14 Complete the dream.
$27.00
Sold out
Crystal Medicine.
Certain combinations bring certain results. Just like with your own human friends and how certain people make life more fun and others are there as support. We work with the crystals and let them tell us who they want to bring to the party! TOGETHER they are more powerful.
Crystal grid your home.
We also offer support to help change the energy that holds you. When we make changes to our foundation, the rest of our life expands! We have so much power to bring love, peace, luck and health to our environment! Plant your crystals on the New Moon and see your life become a dream.
It's all about love.
We only source high quality stones. Then we cleanse them in a stream on the Taos Mountain and charge them on the Full Moon. It is all about integrity, honor, and bringing you the most beautiful offerings. We want you to know that we put in all the love when you open your package!
Join our newsletter list!
Get all the love and information to keep you feeling supported in these wild changing times.